Rigmarine Kazakhstan LLP Bringing Some Small Joy in Aktau
Rigmarine Kazakhstan LLP recently presented small Christmas gifts to 134 children who attend the Psychoneurological Boarding House in Aktau. It was pure pleasure to see the childrens faces light up with such small gifts. Many thanks to Assem Suyundukova (RMK) for going along and making the presentation. Seeing how these children react it certainly gives you a whole new perspective on life. We are very honored to have been asked to assist them in this way & will do so again in the future if requested. Merry Xmas & a Happy New Year to them all.
Middle East Workboats a success for our marine and winch divisions
RIGMARINE Exhibited at this year's Seatrade Middle East Workboats event in the Abu Dhabi from 30th Sept – 2nd Oct 2013.
Although we were promoting all 6 of our business lines our trade stand was weighted towards the Marine, Mooring and Winch sectors which we have seen a high demand for in the local market. During the course of the current year Rigmarine have delivered several turnkey barge mooring packages for both drilling and salvage contractors, proving our benefits as a single source for complete mooring systems design, supply and installation. Re-investment as always has been key to our continual growth, this has allowed us to develop the largest fleet of lifting/mooring winches in the region supported with on-the-shelf ancillary equipment such as anchors, buoys, fairleads and fittings.
Interest in our products and services during the event was considerably high resulting in several firm orders and new clients. We look forward to the Exhibiting at the next event.
Increased fender stocks prove beneficial
The close of 2012 saw the arrival of over 20 floating pneumatic fenders at our Sharjah UAE facility, stocks ranged over five sizes from 1.0m diameter x 1.5m long up to 3.3m diameter x 6.5m long for ship to quay and ship to ship applications, all manufactured in strict accordance with ISO 17357

During 2013 we secured many sales and rentals in the domestic market as well as over 15 units being transported to International locations.
Fenders are also now stocked in the Caspian to support our clients in the region.
Rigmarine active in the Aktau Local Community
Rigmarine recently sponsored a locally established group called The Togyzkumalak Federation which giving more young people the opportunity to play the Kazakh Traditional National Game, which is an intellectual game that helps develop many skills in the individuals who take part. The main Goal of the group is to motivate & encourage young people to make the game more popular for all age categories, creating the conditions for the proper use of leisure time for young people. As part of the Rigmarine sponsorship a group will leave Aktau on the 28th June to participate in a tournament in Kostanai City, Neil Brodie (RMK Local Director) in Aktau was invited along to wish the group the best of luck & most of all to enjoy themselves & be proud of their own individual performances, win or lose. A further update on how the group get on in the competition will be posted at a later date.
Continued Investment Strengthen Group Position in Winch Market
| | |
| --- | --- |
| | The 1st quarter of 2013 was concluded by Rigmarine Group investing over 2.5 million dollar in our winch and powered lifting divisions. The investment includes 10 x hydraulic mooring winches of upto 35t, Hydraulic constant tension winches of upto 40t, and hydraulic utility winches from 7 to 32 tonne capacity. The additions to the fleet underline our intention's and commitment to the Middle East and Caspian markets in becoming a strength in winch design, manufacture and rental sectors |
5th Anniversary celebrations in Kazakhstan
On the 07th February 2013 Rigmarine Kazakhstan LLP celebrated its 5th Year since starting its operations in the ROK. A lot has been achieved during that time through shear hard work, dedication, great staff teamwork & on going Internal/External personal training. From very humble beginnings with 5 employees it has so far grown to +30 very experienced Office/Operational Staff with a Local Content figure in the high 90% region. The biggest highlight as a Company for us so far has been the achievement of gaining our ISO9001-2008 Accreditation through LRQA which stands us in very good stead as we move forward & continue to offer the High Quality Service/Supply we have always strived to give our most valued clients. All RMK staff would like to thank the Owners of the Company & other Rigmarine Group Company's along with all our valued, dedicated clients for all their help & support during our first 5 Years here in the ROK.
Competitive Atyrau
Rigmarine Kazakhstan LLP recently sponsored Aigul Kalybayeva from our Atyrau Branch office to participate in the below mentioned ROK competition, which as you will see along with attached certificates Aigul did extremely well. At the beginning of the competition there were more than 3000 participants. On behalf of all in Rigmarine many congratulations Aigul on your fantastic achievement.
Commenting on the competition was Aigul herself "Young Skilled Personnel Reserve - is a unique program in essence effective development of the young person as a leader, the head of new format. Idea of forming a community of young, vibrant and dedicated professionals to be able to provide the basis of a personnel reserve system of government, business and social-political activities was expressed by the Head of State N.A. Nazarbayev on May 14, 2008.
I also have become the part of this project which strengthened my world outlook and brought me new knowledge.
Within this project it was held different trainings which were focused on analytical mind and personal leadership qualities development.
The first module of competition has started with "Personal Growth" training in Kokshetau in November 2012. This training allows me to be focused on myself and my life goals. It gave me an opportunity to see everything through the lens itself.
The second module of competition was continued in Astana with training –seminar with most KZ famous professionals. Within this training there were held different activities as block of lectures reading, panel discussions, master classes, workshops, personal growth exercises and business games.
One of the training was held by Director of Public relations Company who shared his work experience and achievements in business as Public relations specialist. This training taught us how we could interest people to product we would like to sell. So it gave me opportunity to use this knowledge in my work further. Other trainings also were productive and useful as it were focused on strategic life planning and business management.
At last day of second module 70 finalists with the highest score and best results were awarded with certificates which means that we are one of the best qualified specialists in RoK.
After trainings completion I think to write my own project which can be realized in future. This project may cover different aspects of life as the economic, social and public."
Cromwell distributorship adds additional service to Rigmarine's clients
Rigmarine are proud to announce their official position as an authorized distribution agent for CROMWELL.
CROMWELL are one of the worlds leading providers of industrial supplies and equipment having an extensive industrial supply product range that includes hand tools, cutting tools, power tools, abrasives, measuring equipment, workshop equipment, fasteners, general hardware, maintenance products, PPE, welding and ancillary equipment.
Their co-operation with Rigmarine will allow us to offer our clients direct access to a wider range of products beneficial to their local operation or project, all supplied with the dedicated service which we have become renowned for.
New training school set to boost Rigmarine's training portfolio
The growing demand in Azerbaijan for effective and professional training services led to the unveiling of Rigmarine's new custom built training facility.

The 10 class facility with expansion plans for a further 10 is without doubt the most advanced in the region and is delivering internationally accredited courses to the Oil and Gas industry.

The expansion also allows us to increase our abilities to offer a full range of Health and Safety management programs underpinned by recognized industry figures such as NEBOSH and IOSH.

A full portfolio of courses available on request.
Caring for the community in Kazakstan
On the 23rd August 2012 Rigmarine Kazahkstan LLP donated much needed Schooling materials to the Kyzyltobe Lyceum school, Munaily region. The materials purchased were distributed amongst pupils from poorer family's who simply cannot afford to purchase the basic necessities their children need for their education requirements. RMK was delighted to be able to assist in this way as such is with our own employees learning, training and developing cannot be achieved without having the basic essentials. Thank you very much to our RMK employees Nagima & Jarbol for presenting the gifts at the schools concert.
Caspian Wire Delivery
| | |
| --- | --- |
| | Rigmarine have completed the delivery of over 600tes of anchor and crane wires for a 2500t heavy lift barge in the Caspian Sea. The barge operator specific manufacturing tolerances for all the wires which had to be verified and accepted by DNV. Rigmarine worked exclusively with Usha Martin to supply all the wires and we are pleased to confirm that once a again a quality product was delivered to the client according to the agreed delivery schedule. |
Rigmarine will also project manage the installation of all wires onto both the mooring and crane winches. This will involve skilled and experienced labour, 200t back tension spooling units and a number of specialist reeving blocks and associated plant all of which is provided from Rigmarine's Marine Service center in Baku.
Lloyds Register Approval for Rigmarine Kazakhstan
The 2nd quarter of 2012 has secured Rigmarine Kazakhstan their ISO9001 QA System accreditation through Lloyds Register Quality Assurance. LRQA were chosen to certify our Quality Management System due to their long standing reputation in the marine sector and high end auditing process.

Neil Brodie, Kazakhstan General manager comments - " ISO 9001 was not just about ticking a box for RMK. We wanted our Quality Management System to stand up to the scrutiny of a major international accreditation company and our thanks to LRQA for their assistance in helping us achieve our goal. With this accreditation Rigmarine have taken yet another step to ensure the best possible quality product and services are delivered to our client's which is our key objective. Once again it was a team effort and it's a great achievement for all of us".
Further Expansion in the Republic Of Kazakhstan
Rigmarine have the pleasure in announcing the opening of another office in the Republic of Kazakhstan.
Being at the heart of contracts and engineering for the offshore sector, Atyrau in the North of the Caspian Sea was an obvious choice. Our strategy was always to support our clients with "boots on their doorstep" and this further demonstrates our commitment to the region and of course to our clients.
With the full support of our Engineering and manufacturing facility in Aktau which boasts a 500t test machine and sling manufacturing of upto 76mm, our Atyrau office intends to roll out all of Rigmarine's product lines to the local market. This will include mooring system supply/servicing, Lifting testing/inspection, Lifting equipment supply, Industrial product supply and Winch rentals.
Contact Details of our new office and its location can be found on our website.
New Generation Winch Rental
| | |
| --- | --- |
| | Rigmarine's winch rental fleet is ever increasing and we are pleased to announce the arrival of a new build 20t Constant Tension winch delivered in May. The winch, built by Motive Offshore is destined for its initial contract on a Dive Support Vessel operated by Mc Dermotts and carrying out offshore installation work for BP and is the first of many such winches that shall grade our winch rental fleet. As with all RIGMARINE's winch and marine equipment rentals our client's can be assured of our 24 hour support and service including skilled personal to assist with any installation, testing and operational requirements. |
1st Full LEEA Member in the Caspian Region
It is with great pride that we announce that Rigmarine Azerbaijan has been accredited as a full member of LEEA ( Lifting Equipment Engineers Association). Although we are one of many certification companies in the Region we are the first and only company to achieve this prestigious membership with the Association. This accreditation underpins the integrity of our operating systems, training programs and quality objectives and again clearly demonstrates our commitment to our Industry, our clients and our staff.

RIGMARINE , because there is no alternative to quality.
Entering the Middle East with our first Winch Rental Project
RIGMARINE FZC launched their operations in the Middle East with a winch rental package for Lamprell.

In support of Lamprell's load out of the 12000t wind carrier " Brave Tern", RIGMARINE mobilized 4 x 20t quayside mooring winches which were used for holding Lamprell's load out barge " Jebel Ali Pride" in position. In addition to the winches RIGMARINE provided support personnel and specialist rigging for the project.
RIGMARINE FZC were proud to be involved in such a unique and high profile project and it was an excellent start to our operations in the Middle East.
Leading the way in training excellence
Following our yearly audit by our Award Body ITSSAR, Rigmarine have once again set a new marker in excellence in the Azeri training market with the awarding of an upgrade from a Category 2 Training Centre to a Category 3 Centre.
Steve Miller, the training department manager, after a lengthy preparation and training period, has now been fully certificated as a tutor and is conducting external and internal instructor courses under the monitoring of ITSSAR.
With the centre upgrade, Rigmarine now offer the facility to have instructors professionally trained and accredited by an independent UK HSE approved Award Body.
This award is the first of it's kind in Azerbaijan, and indeed the Caspian Region, giving Rigmarine the facility to train professional instructors in-house to an accredited standard by ITSSAR and recognized and monitored by the UK HSE.
This is a highly coveted award, achieved through setting and maintaining extremely high standards of training and using only qualified, professional instructors.
Steve Miller's comments: "Being the current training provider for companies, including BP, Saipem/Bos Shelf, ATA Consortium (Azfen/Tekfen/Amec) and McDermott's, we must drive skills development forward. Our clients rely on our services to both protect and enhance their business, it's a serious role to be playing and its vitally important we continue to show growth in our systems and accreditations".
Raising the bar with competence
Quality has always been the emphasis here at Rigmarine and in the lifting industry you cannot achieve Quality without first achieving Competency.

In an effort to highlight the importance of Competency in the lifting gear industry Rigmarine have organised a seminar to bring this subject to our clients attention and this will be held at the Crescent Beach on the 15th November 2011.

The objective of the seminar is to give our clients a wider knowledge on the topic and work together in strengthening competency in the industry. It will also provide Rigmarine the opportunity to demonstrate the time and financial investment made within the Region via our training school and staff development programmes.
All customers are welcome and we look forward to seeing everyone on the day.
Expansion of rental fleet assets
Rigmarine have taken delivery of another 2 x 35t water test bags for our Kazakhstan facility which will increase the range of testing services available to our clients for offshore and onshore crane certification.
This latest investment will bring the total tonnage of water weight's in the Caspian to over 400t which coupled with our comprehensive fleet of over 70 calibrated load cell's ranging from 2 – 300t allows us to provide our clients with locally sourced and professionally managed testing solutions.
Rigmarine Azerbaijan recently completed an 1800t synchronized lifting/weighing project for calculating CoG's for new build offshore drilling modules utilizing the newly acquired plant and software. This is another specialized area that we will also continue to invest in again with our clients service and financial needs in mind.
ABS approval leads to another Rig Survey
RIGMARINE have racked up another Class Society Approval, this time with ABS.

The accreditation gained was for Structural survey techniques and Non destructive testing including UT, MPI, DPI and ACFM. The accreditation was a critical requirement to allow Rigmarine to tender for, be awarded with and complete the full periodic survey on Caspian Drilling Company's MODU Dada Gorguid
To execute the full survey which included the full chain-anchor moorings, hull and deck survey, under deck bracings and the Derrick a qualified team of 18 RIGMARINE technicians each of which were fully qualified and experienced in their specific disciplines including NDT, lifting equipment, drilling equipment, rope access and mooring systems.
The technicians had the full support of the operations and quality teams at Rigmarine Azerbaijan and the team effort ensured the project was completed on time and to the satisfaction of the client.
A good job, definitely well done!!
Globesafe acquisition finalised
With negotiations being concluded during July, RIGMARINE have acquired the company behind the GLOBESAFE brand of quality lifting equipment. It was always RIGMARINE'S strategy to control key elements of our supply chain and this acquisition provides us with the ability to carry out our own product research and development.
It will be our intention to further develop the range of products currently in the GLOBESAFE portfolio using our extensive knowledge of the Oil and Gas Industry whilst opening up a wider sales area from our distribution centre in the Middle East which will incorporate after market service, spare part holdings and product training.
Supporting a good cause
Rigmarine Kazakhstan LLP recently entered a team at the 6th Annual Oilmans Charity Golf Tournament on the 20th August at the Zhailjau Golf Club in Almaty, sponsoring a hole with a donation of $3500, all proceeds raised from the event go to the Almaty based non-profit charity the Dara Foundation which assists underprivileged, orphaned & disabled children. Congratulations to Ray who won the Closest to the hole prize for the day. Rigmarine are very proud to have been part of a fantastic event in support of a very worthy charitable cause.
Left to Right Players – Neil Brodie (Rigmarine General Manager - Kz), Ray Sheran (ITS), Bob Milne (Denholm Zholdas), Neil Hay (Weatherford)
Double mooring equipment package
During the summer RIGMARINE delivered and installed mooring system upgrade packages for 2 Semi Submersible Drilling Units.

Complete anchor chaser packages were delivered and installed as well as the supply and installation of deepwater inline swivel systems for each rig.

All equipment was supplied with duel certification from DNV and ABS classification societies.
RIGMARINE kick off with Ferguson Sea Cabs
Our newly formed alliance with Ferguson Sea Cabs has started with the mobilization of 20 new build DNV 2.7-1 Offshore Units in to Kazakhstan. Comprising 8 x 20 feet Containers, 4 x bottle racks, 6 x boat skips and 2 x 3mtr cargo baskets the consignment will go directly into a 6 month rental contract.

On completion they will be demobilized to RIGMARINE'S Aktau operation base where they will become part of our in-country rental fleet and available to support the local industry.
Anchor Wire Delivery
Rigmarine completed delivery of 3 x replacement anchor wires for the MODU Heyder Aliyev during 2nd qtr. 3 x 3255mtr of 77mm with an MBL of 425MT gross weight of 255t were manufactured and delivered to the client ahead of schedule. Having the local resources and machinery available, we will be looking forward in assisting with the removal and installation of the wires in the months to come.
Increase to Winch rental Fleet
Rigmarine have increased their available winch rental fleet in the Caspian and Middle East Regions with the purchase of 8 new build hydraulic units. The delivery of 4 x 20t and 4 x 18t units is aimed primarily at the shallow water barge market and gives us the ability to provide complete temporary or permanent mooring system installations supported from strategic service centers in Azerbaijan, Kazakhstan and the Middle East.
Delivery of Marine Rental and Service Package
Contracted by Maersk, Rigmarine have delivered and installed a pre-layed mooring system for the MODU Explorer in preparation of their drilling program for France's TOTAL. Managing the complete operation from mobilization, delivery, quayside management through to deployment meant a smooth and trouble free solution to both the rig operator and their client. Included in the service package was the on-location change out of one of the rigs 8 x 3200mtr 76mm anchor wires.
Previously in 2010 Rigmarine provided the Explorer with a piggy back mooring system in support of a drilling program for Conoco Philips in the Kazakhstan sector of the Caspian.
RIGMARINE – An ISO 9001 - 2008 Certified Company !
| | |
| --- | --- |
| | RIGMARINE are proud to announce the latest recognition of their Quality Management System to ISO 9001-2008. Commenting on the award was Elena Duncan, Rigmarine QA manger " I'm delighted with our latest achievement. Many companies find certification to 9001 a simple process, as it's gained at the earliest stage of their business, when operations are low. Rigmarine however are an established company with a high turnover of operations spread over 6 business units, we really have to set some very strict internal control processes for us to meet with our corporate quality goals. The fact that we managed to secure the award in a short period of time proves the integrity of the system we were running to date". |
North Sea Lifting (N.S.L) Representation in the Caspian a key alliance
No introduction is required for North Sea Lifting, they are at the forefront of the industry when it comes to Training, Competence Assurance and Technical Support on all lifting matters.

We have the pleasure in announcing the appointment of RIGMARINE as Caspian Representative for N.S.L. As well as strengthening our abilities with training in the region with the N.S.L pioneered, EAL accredited Level II rigging qualification, RIGMARINE will be stocking all NSL safety and training publication's including handbooks, posters, DVD's and E Learning awareness packages.
Commenting on the appointment, Mike Duncan Managing Director Added " For 20 years NSL have been the leading force in specialist training , they have gained the respect of the lifting industry with their unparalleled promotion of safe operating practices. RIGMARINE are still relatively young but both companies share the same core values and principles. To be appointed as a representative of NSL underline's our direction, not as just another training center but as a company focused on raising the bar with safety within the lifting sector".
Another Classification Society Accreditation, this time DNV
| | |
| --- | --- |
| | Rigmarine Azerbaijan have been accredited by Det Norske Veritas ( DNV ) with a Category 1 Certificate for Ultrasonic Wall thickness surveying on ships structures. The certificate covers all types and sizes of vessels Classified by the Society. Our initial contracts have came from Caspian Drilling Company for survey work on the MODU Istiglal and Saipem for a similar survey on the DSV Hussenov. The DNV certification supports the RMRS approval awarded at the end of 2009. |
Specialist Fall Arrest and Safety Equipment distribution and service agent agreement
Globestock Engineering, an industry leader in Fall Arrest and Load Arrest safety equipment award RIGMARINE there distribution and service agency for the Caspian Sea. Specialist in the design, manufacture, supply and refurbishment of all fall protection and confined space access equipment, they are a welcomed addition to the RIGMARINE supply chain and another which shows our commitment in the provision of quality equipment. Globestock products can be seen in our supplier section or through www.globestock.co.uk
RIGMARINE Shake with STRAIGHTPOINT
RIGMARINE have signed an exclusive distribution and service agreement with STRAIGHTPOINT.
Straightpoint (UK) Ltd are The World Leaders in the design and manufacture of a huge range of force measurement, load monitoring and suspended weighing load cells up to 1,000 tonnes capacity. The agreement in the Caspian will see RIGMARINE invest in specialist test machinery in order to service and re-calibrate Straightpoint equipment locally. Straightpoint products can be seen in our supplier section or through www.straightpoint.com
Installation of Specialist Test Machinery
RIGMARINE Azerbaijan have installed 2 state of the art testing machines in their Baku Facility. The technology incorporated in the machines is of European origin and regarded as the most advanced of it's type available in the industry today. Computerized data processing allows for test graphs to be generated and issued as back up for any certificate, both beds are to have webcams fitted also to allow our clients to witness tests on-line from their own office.
375t/600t Horizontal Test Bed. - This bed features a calibrated force of 375t with additional capabilities of upto 600t using external hydraulic cylinders. The wide carriage is designed to allow crane blocks of upto 400t to be installed for test. At 12mtr long it can cater for most applications, attachments on the end allow for wire rope and winch testing. On installation it's initial use was the destruct testing of 10 x 64mm anchor wire samples for a pipelay barge.
150t/2000t Vertical Test Machine.– This unit is unique in all parameters, with the ability to load test offshore units of up to 40' long as well as spreader beams of 12mtr. It's construction also allows for the dynamic testing of power driven winches and hoists. The base of the bed has been under strengthened and will allow compression testing of upto 2000t to be completed safely.
March 2010
Slew Ring Bolt Replacement
As part of the reactivation program of the 2500t Derrick Barge Azerbaijan ( DBA), RIGMARINE were contracted by Saipem for the removal and replacement of all of the 640 slew ring bolts. Each of the 4 rings are fitted with 160 x M72 bolts which were removed and replaced in sequence, on installation each bolt was set to a tension of 301 metric tonne with a custom built hydraulic system. The work was completed 14 days ahead of schedule.

Also included in the work scope was NDT of all hoist wires and the 2.5 year intermediate Class survey.
February  2010
Rigmarine obtain RMRS Classification Approvals
After 3 month of auditing RIGMARINE have gained Approval by  the Russian Maritime Register of Shipping Classification in the following categories.
Non Destructive Testing
UT Wall Thickness Measurement of Hull Sections
Maintenance, Inspection, Repair and Certification of lifting and mooring  equipment on marine vessels.
Another accreditation which enhances our portfolio and forefronts our commitment to clients requirements. It's also another significant milestone towards our recognition of being "Best In Class".
December 2009
Rigmarine obtain ITSSAR Accreditation for our Training Facility
After an intensive audit and external verification of our programmes, instructors and facilities by ITSSAR (a UK accreditation company appointed by the UK HSE), we attained a formal Category 2 Training Centre Accreditation which makes us the only 3rd party accredited training centre in Azerbaijan. This supports our MES approval from the Azeri Government who have authorized our training activities in the Republic.
Commenting on the award, was our Workforce Development Manager Steve Miller " this really is a fantastic achievement, we are the only company to date in Azerbaijan which have taken our training programs to an internationally recognized level.
A key issue in the  award from ITSSAR was that unlike generic training companies whose instructors rarely have industry working experience, all of our instructors have major industry working backgrounds in the fields in which they instruct, allowing us to deliver the maximum relevant theoretical and practical elements of a course.
Removal of 300t boom section
Contracted to Caspian Marine Services. RIGMARINE perform the removal of the 300t boom section of the Gurban Abbassov crane barge located in Baku Azerbaijan.
The full scope of work delivered by RIGMARINE comprised of ;
Engineering design and feasibility study
Removal of wire rope
Removal of Boom Heel pins
Jacking up of boom and weighing with compressive load cells to establish CoG
Design and manufacture of full lifting system
Compilation of full lift and HSE plan
Lift execution
The project was delivered on time within budget and more significantly - in a safe manner!
"This is the type of profile that separates RIGMARINE from your average rigging company. The ability to successfully complete a project of this nature highlights yet another unique dimension of our companies portfolio. The strength of our engineering and design department, experience of our site engineers and our active HSE policy underpinned this significant and successful achievement" commented Managing Director Mike Duncan.
Rigmarine Kazakhstan install and commission 500t test machine - July 09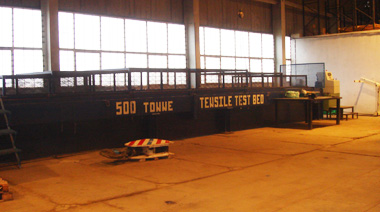 The latest investment to our Kazakhstan facility is delivered. A custom built tensile testing machine that can provide proof load forces of upto 500t, without doubt the largest of its type in the Caspian and an asset that places our rigging facility into the "world class" bracket.
The machine has a 12m x 1.5m carriage and built to accept larger than standard equipment such as crane blocks and drilling elevators. It's high load capacity and additional components such as a chain grab and wire capstan give the ability to test a wide range of mooring hardware also.
Installation of marine winch spread for the Kashagan project in Kazakhstan
Rigmarine win a contract to supply, install and commission a 4 x 45t winch spread for a barge being contracted to Agip on the Kashagan project. The winches were supplied with class certification and installed for remote operation in the bridge house.
Neil Brodie, Kazakhstan General Manager commented "This is the first time in over 10 years working in the region that I have seen a local company deliver this type of package. Our corporate strategy is focused highly on in-country development, the successful commissioning of this initial project bench marks our progress and will send out clear signals to the industry of our local capabilities"